Alfred's Basic Piano Library
Pickup available at 15315 Culver Dr. #150
Usually ready in 2 hours
Alfred's Basic Piano Library
Recital 1A
15315 Culver Dr. #150
Pickup available, usually ready in 2 hours
15315 Culver Drive #150
Irvine CA 92604
United States
+19495593069
Re-stocking soon
A Piano Course for Beginners of All Ages
Alfred's Basic Piano Library is a method for beginners of all ages and offers teachers four different and complete beginning piano courses that use the same interval-based approach and theory sequence, but move at different paces. Not only is the pacing different, the illustrations, covers, and course names are all different.
For young beginners - Alfred's Basic Prep Course, Levels A, B, C, D, E, F
For beginners - Alfred's Basic Piano Course, Levels 1A, 1B, 2, 3, 4, 5, 6
For beginners - Alfred's Basic All-In-One Course, Books 1, 2, 3, 4, 5
For later beginners - Alfred's Basic Complete Course, Level 1, Level 2/3
Because the courses are all paced differently, the teacher is able to design a personalized curriculum for each student. No longer does one method have to fit the learning rate of every beginner. This is especially helpful when there are two students within one family.
A truly unique feature is that, at the teacher's discretion, students may switch from one Alfred's Basic Piano Library courses to another, matching the student's rate of progress with the appropriate course, depending on whether the student needs to move faster or slower through the course.
Each course ultimately leads to Alfred's Basic Piano Course. After the completion of that course, the student is ready to begin playing standard piano repertoire.
What Are They?
The four courses—Prep, Basic, All-In-One, Complete—are all based on the same fundamentals. They are easy, step-by-step methods that emphasize correct playing habits and note reading through interval recognition, while providing a solid foundation in music theory.
All of the courses use a true multi-key reading approach, and even though key signatures are not introduced in the first book, by using accidentals, the student will actually play in seven different keys. From the very first lesson, entertaining pieces are included along with clever lyrics that help the student play intervals of 2nds, 3rds, 4ths, and 5ths, and fully understand them as well.
Supplementary Instruction and Performance Books
Almost every student requires additional practice in performance skills that can't be fulfilled by a single Lesson Book. With the exception of the All-In-One Course, each of the courses have optional theory, technic, and solo books to supplement the Lesson Books.
In addition to these core publications, Alfred Music also offers supplementary instructional publications in note-reading, sight-reading, and ear-training. Finally, there are supplementary performance collections that include popular music, Christmas music, repertoire, hymns, praise hits, duets, and more. Every supplementary book is correlated page-by-page to the Lesson Book.
Alfred's Basic Piano Library has more supplementary publications than any other piano method. This empowers teachers to design individual courses of study that fill the needs and wishes of every student.
How Do the Courses Interact with Each Other?
As an example of how you can switch between the four courses, let's say you feel a student would benefit by using a faster approach. You could accomplish this by switching from the Prep Course to the Basic Course.
Find the Prep Course on the chart below, then move right to Level B.
Follow the dashed lines and arrows to see where switches between courses can easily be made.
After completing Level B, a smooth switch can be made to Alfred's Basic Level 1B.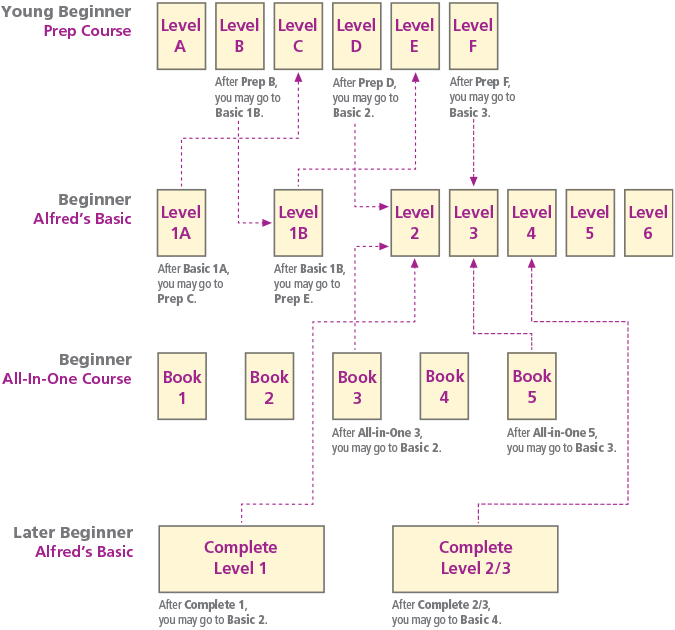 Alfred's Basic Piano Library offers two adult piano courses.
Alfred's Basic Adult Piano Course—Levels 1, 2, 3
Written for the adult beginner who wants to learn to play the piano quickly by focusing on chords.
Alfred's Basic Adult All-In-One Course—Levels 1, 2, 3
Written for an adult beginner, this course includes selected pages from the Theory, Technic, and Popular Repertoire Books, as well as the necessary Lesson Book pages.
On the next pages, there is a brief description and outline of each course, its basic concepts, and how the student can switch from one course to another.